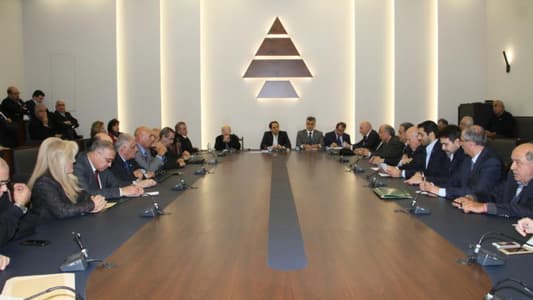 The Kataeb Political Bureau stated in a statement on Tuesday after its weekly meeting, which it held remotely under the chairmanship of MP Samy Gemayel, that it was following up on the reports issued by the COVID-19 emergency committees, "monitoring the pandemic's health, economic and social repercussions, and tackling the disturbing reality of the rising numbers [of infections] in light of the lack of compliance with the restrictions on movement."


The party thus appealed to the concerned parties to secure the necessary tests to detect the coronavirus infection to all the Lebanese across Lebanon, "because of its importance in limiting the scope of infections, thus warding off the spread of the epidemic."


The party also called on "the security services to strictly implement the decisions to limit movement and impose curfew," urging the need to expedite the securing of everyday necessities to the Lebanese in order to keep them in their homes (...), and bypassing the complications of slow bureaucracy in a bid to address the needs of the people as quickly as possible."


Underlining the importance of concerted efforts to "equip government hospitals and secure medical personnel before considering alternative solutions," the Kataeb stressed that it was following up on the efforts to bring back the Lebanese who wish to return to their homeland," reiterating the need "to organize their return in a manner that preserves their safety and the safety of their families and their surroundings."