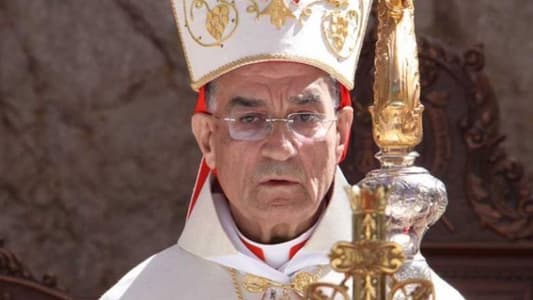 Maronite Patriarch, Bechara Boutros Rahi, delivered on Friday morning from the Church of Our Lady in Bkerke, the message of Christmas entitled, "Lead us to Bethlehem to see this Word", expressing his well-wishes to the Lebanese people in general, and Christians in particular, residing in the homeland and the countries of the Diaspora.

In his homily, the Patriarch said: "Christmas is an invitation for us, and for every human and individual, to hasten to meet Christ, through the symbols of the cave and the tree, and actually through the secrets of salvation. He is our light in the thick darkness of our night, which surrounds us, as if without dawn to follow."

"Christmas is the feast of the Light of Christ that shines in the darkness of life, in order to dispel it. Let us hasten to Him with the faith and simplicity of the shepherds of Bethlehem, to be enlightened by His person, His words and His signs. Jesus is the dawn after our long night," Rahi maintained, stressing that the world is in need of the light of Christ, the light of truth, to find a way out of its darkness.

The Patriarch continued to indicate that "the birth of Lebanon is the exception that the Lebanese should have proposed as a rule for the peoples of the Middle East. But we did not know the value of this blessed homeland, so we doubted it and abandoned the blessing. We are not the only people who disagree on their past. All peoples differed and fought. Where are our wars from the wars of Europe, America and Asia…and others? But these peoples accepted their different history, reconciled, learned from their experiences, and set out towards a brighter future…. As for us, we still restate our differences, going backwards and destroying what our statesmen have built!"

He added: "We demand the restoration of our democratic system because we have been living in a state of disorder for years…and the restoration of our state because we live outside its cover, and it lives outside its legitimacy, constitution and charter, and is subject to the deliberate imposition of a single will on constitutional institutions until they are shackled and disrupted."

"Lebanon without impartiality will always stand on the brink of crises, divisions and wars," regretted Rahi, disclosing that in his meeting with the Secretary-General of the United Nations last Monday, he presented him with a memorandum comprising Bkerke's usual positions on neutrality and the international conference on Lebanon and the necessity of implementing all international resolutions without fragmentation, especially since the State of Lebanon agreed to them successively. "We stressed to the Secretary-General the need for the United Nations to move before anyone else to crystallize an international solution that reflects the will of the Lebanese," the Patriarch underscored.