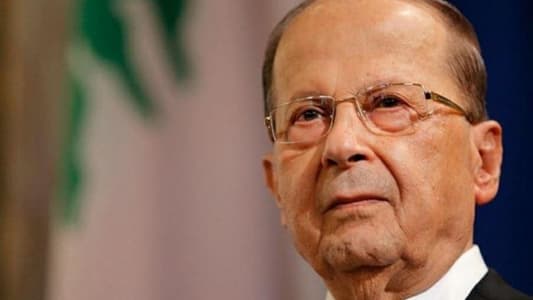 President of the Republic, General Michel Aoun, appealed to the Lebanese on Christmas eve in a religious interview inspired by the spiritual occasion, in which he spoke with his interlocutors, colleague Abdel Helou, former Archbishop of Ferzol, Zahle, and Bekaa for the Melkite Greek Catholic Archbishop Issam Yohanna Darwish, about religious aspects and his impressions.

The President also spoke about his vision of the Christian faith and how to apply it in daily life.

President Aoun stressed the importance of the great meanings that Christmas carries and the values ​​of love that Jesus called for, and the importance of the Virgin Mary and the Bible in consolidating these values ​​in the daily life of the believer, and facing the difficulties and problems he faces on a daily basis.

In addition, President Aoun clarified that he gained faith gradually, and that the "entrapment of knowledge" played a role in this, stating that his faith was reflected in the consolidation of his attachment to the land and the homeland.

"A person is linked to their society and to the land. A person without a homeland is a refugee, and this strengthens the connection between man and land," the President said.

President Aoun also considered that Lebanon has citizens of all religions and brings together multiple civilizations, if coexistence is present peacefully and based on good deeds and love between individuals and groups, then it constitutes two models for this.

"This is why I proposed the establishment of the Academy of Man for Convergence and Dialogue that studies civilizations, religions and the accompanying traditions. I believe that the culture that emerges from that promotes peace among human beings. So as long as we all acknowledge God as the Creator, why do we kill and not love one another, because the earth accommodates all human beings," President Aoun continued.

Moreover, President Aoun pointed out that "What the Lebanese suffer from today and live with is the result of the actions of those who previously exercised responsibility, and these people had to form a good example for the citizen because they were the front of the Lebanese society and they are entrusted with the lives of the citizens who suffer today, hence the right to self-defense. That is, the necessities of life".