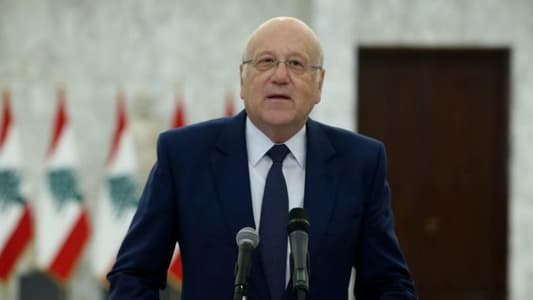 Prime Minister Najib Mikati on Tuesday called for "an internal understanding through a dialogue table to strengthen Lebanon's relationships with the Arab states, especially the Gulf," highlighting the necessity "not to insult these countries or meddle in their domestic affairs."

The Prime Minister also renewed calls to abide by the dissociation policy "which preserves our country and protects its ties with the international community and Arab world."

"A new decisive year is ahead, and we are on the threshold of parliamentary and presidential elections that will redraw the internal political scene," Mikati told a news conference at the Grand Serail.

"We must derive lessons from the crises we had previously endured and we must return to implementing the Constitution to restore order to the political life," he stressed.

Tackling the government gridlock, Mikati said he had embarked on a series of contacts to resume the Cabinet sessions. "I have been waiting before convening the Council of Ministers so that there wouldn't be any further complication."

Mikati underlined that "the suspension of the Cabinet meetings constitutes a structural defect in the government work which can neither be ignored nor overlooked."

"The Constitution was put to avert any blockage, and the laws are the competent reference to resolve disputes," he said.

On the Beirut port blast probe, Mikati said: "We understand the concerns and demands of a large segment of the Lebanese, and we call for solutions within the frame of the Constitution and the laws."

He also renewed calls to keep the judiciary away from political polarization and to preserve its independence.

On a different note, the Prime Minister indicated that he had signed the decree calling for the parliamentary elections and that he had forwarded it to the President of the Republic.