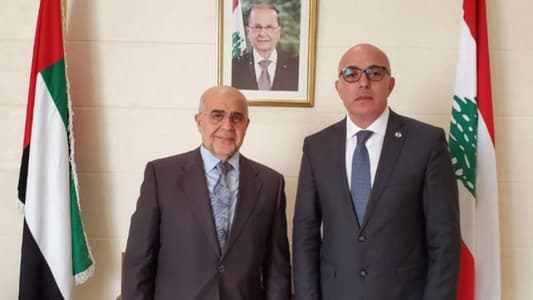 Mayor of Tripoli Riad Yamaq met with Lebanon's Ambassador to Abu Dhabi Fouad Dandan at the embassy headquarters during his visit to the United Arab Emirates.

The meeting was a chance to deliberate on the prevailing situation in the city of Tripoli in light of the economic crisis in the country, and the obstacles facing municipal work in the city. Both men reviewed some ideas that can be translated into joint work projects to serve the people of Tripoli.

Yamaq also listened to a briefing by Ambassador Dandan on the conditions of the Lebanese community residing in the sisterly Emirates, particularly those hailing from Tripoli.

In the same context, the Tripoli Mayor also visited the headquarters of the Consulate of Lebanon in Dubai, where he was received by Consul Elie Arab, in the presence of the representative of the Tripoli Chamber of Commerce, Industry and Agriculture in Dubai, Antoine Sayed.