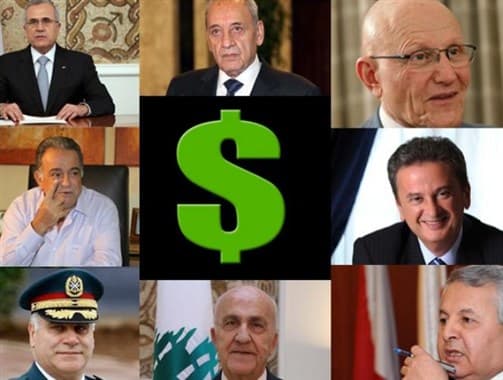 In a country where social unrest no longer makes the headlines and the ever-increasing public debt continues to weigh the economic performance down, extravagant figures fail to pass unnoticed. Despite the major deficit that has been marring the public sector and the ongoing pretexts under which employees have been deprived from a considerable pay hike, Lebanon's top officials receive exorbitant salaries.
The Central Bank governor comes at the top of the list with a LL 640million per annum salary, i.e. LL 40million/month, not to mention the benefits package that he enjoys.
It is worth noting that the "fiscal year" to all of the employees at the Banque du Liban stretches along 16 months instead of 12.
Each of the four deputies to the Central Bank's governor gets a LL 35million monthly salary. Each of the five members of the Banking Control Commission, tasked with supervising banks and other financial institutions, receive a monthly salary amounting to LL 25million. As for the Bank's Director General, the latter receives a monthly salary equal to LL 18million.
They also all enjoy travel expenses reimbursement.

Salaries of public institutions' general directors range between LL 2,075,000 and LL 5,057,000, depending on the employee's rank. As for the members of the "invalid" Petroleum Administration, each of them gets a monthly salary that is equal to LL 22million, noting that they enjoy a hefty benefits package that includes accommodation costs (LL 3million), non-compete clause salary (they continue to receive a monthly compensation of LL 3.6 million over two years following the termination of their employment), a first-class health insurance, yearly education scholarships that are respectively equal to LL 6million for school and LL 10million for college.
The salaries of judges range between LL 4.1 and 9.3million.
As for the public schools' teachers, their salaries range between LL 3.7 and 8.5 million.
The president of the Lebanese Republic gets a monthly salary that is equal to LL 12.5 million whereas both the prime minister and the speaker of the House get LL 11.8million. Each of the 128 lawmakers receives LL 11million while a minister benefits from a monthly wage of LL 8.6million.
It is worth mentioning that a lawmaker who gets named as a minister does not get a double salary; on the other hand, this does not apply to an Army commander who reaches the Baabda Palace.
While the country's budget is plagued by ever-increasing deficit and institutions lack dynamism, spendthrift fails to pass unnoticed across all public departments; a blatant contrast that harbingers an open-ended nightmarish reality.
Article originally written in Arabic by Gisele Naim