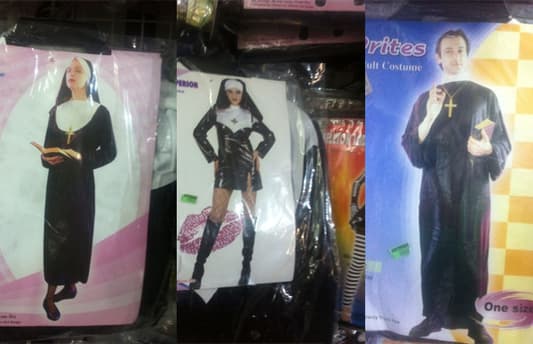 Insulting religious figures phenomenon mainly to the Christian symbols has reached Lebanon.
So after vandalizing the statue of Virgin Mary in al-Raqqa province in Syria and violating the churches in Egypt, these derogatory acts arrived in Lebanon however waving another path.
Shops showing Halloween costumes with patterns insulting the nuns outfit in Kesrouane at Virgin Mary of Harissa.
What is the aim of this act?
On the other hand, there were reports on Wednesday that Halloween costumes, with patterns insulting Christianity, are showing at some shops in Kesrouane region and they are imported from China.
When the religious party claimed, immediately General Prosecution of Appeal tasked the concerned security apparatuses to inspect the shops at the said regions.
Then, General Security authorities confiscated the costumes and arrested the shop owner in Zouq Mosbeh area.
The outfits were seized upon the notice of the General Prosecution of Appeal that asked to resume the search of similar costumes in order to take the legal measures against the authors.