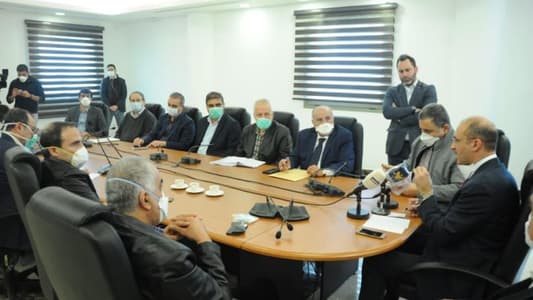 Health Minister Hamad Hassan on Monday received at his office a delegation of the general directors and Board Chairmen of state-run hospitals, with whom he discussed the ministry's plan to announce the readiness of these hospitals to confront the coronavirus pandemic based on specific charts set by the public hospitals' concerned officials on the requisite needs to be secured in the near future.


Opening up the meeting, Minister Hassan saluted the Board Chairmen of the government hospitals of Nabatieh, Hermel, Baalbek, Mashghara, Al-Bawar, Bcharre, Halba, Bint Jbeil, Rafik Hariri, and Tripoli, underlining these hospitals' full readiness to receive cases suffering from respiratory infections, whether related to regular flu, seasonal allergies or suspected coronavirus.


The Minister announced these hospitals' readiness to be part of the Ministry's plan and to be the main defender of our society, whether in terms of the human administrative and medical personnel or the existing equipment at hospitals.


He added that these ten hospitals are among the first phase of the plan developed by the Ministry to secure hospitalization services for the aforementioned infectious cases.


Hassan also said that he will announce the readiness of a second batch of government hospitals next week, thus rendering all public hospitals ready in this regard at the end of April to serve all Lebanese citizens anywhere on Lebanese territories.


Minister Hassan also received UNHCR's Representative in Lebanon, Mireille Girard, and discussed the ways of responding to the Lebanese government's plan to curb the spread of the coronavirus.


Hassan then met with Nurses' Syndicate Dean, Mirna Doumit, at the top of a delegation from the Syndicate, who raised with the Minister relevant demands.