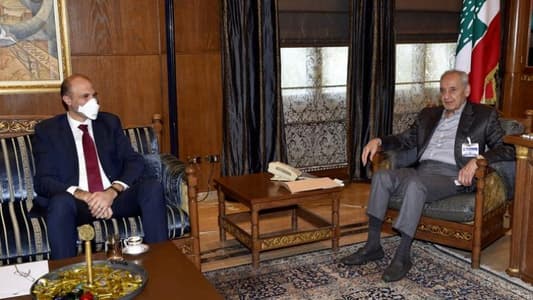 Parliament Speaker Nabih Berri on Monday discussed with a number of ministers the country's general developments, especially the conditions of Lebanon's health sector in its fight against the novel coronavirus.


Minister of Health Hamad Hassan briefed Berri on the Ministry of Public Health's efforts facing the pandemic's outbreak.


"We discussed the plan of the Ministry of Health to contain this pandemic, which is an outright challenge; the virus has toppled many global health systems in many countries, yet with all humility, we have managed to date, and with the support of official references and the plan approved by the Ministry of Public Health, of which the civil society is deemed the first partner, to respond to all the statements and instructions issued by the Ministry of Public Health," Minister Hassan said on emerging.


The Health Minister also noted that talks with the House Speaker had touched on the issue of expatriates and their safe return back home as per regulations established by the Ministry of Public Health.


"We have seen from the President keenness to protect the local community, as well as his concern for expatriates to return to their homeland," Hassan added.


Separately, Berri held a meeting with Minister of Finance Ghazi Wazni, and Minister of Agriculture and Culture Abbas Mortada, with whom he discussed general issues, especially the financial and economic situations.


Later in the afternoon, Berri received Minister of Information, Manal Abdel Samad, who gave him a briefing on the Ministry's work at the current stage.


Berri reviewed the latest political and security developments with Deputy Prime Minister, Minister of Defense Zeina Akar.