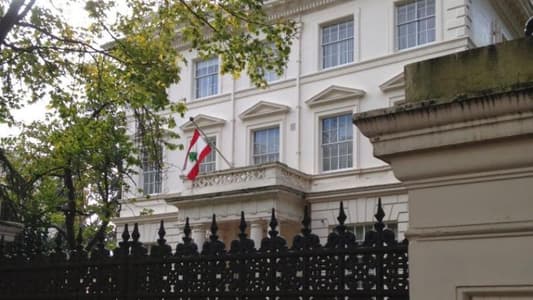 The Embassy of Lebanon in London on Monday announced in a statement the launch of "Let's Stand Together" initiative.


Lebanese Ambassador to the United Kingdom, Rami Mortada, said that the initiative aimed to provide financial and emergency life resources to Lebanese students and citizens affected by the conditions resulting from the current travel ban to Lebanon.


"The initiative provides emergency assistance that will allow Lebanese Nationals stuck in London to secure life essentials until the travel crisis to Lebanon ends," the diplomat explained.


"The initiative was designed in a manner that takes into account the best practices in transparency, impartiality, and speed of responding to needs in accordance with objective criteria, and under the management of embassy officials and members of the Lebanese community," Mortada added.


The statement indicated further that the initiative was the result of exemplary cooperation between the Lebanese Embassy in London and LIFE and BLA associations."


In this vein, the embassy of Lebanon in the UK has called on Lebanese students in British universities, who endure life difficulties as a result of the current circumstances, to contact the embassy's hotline on 07741260919, and to submit requests to benefit from the initiative or download the application on the embassy's website.