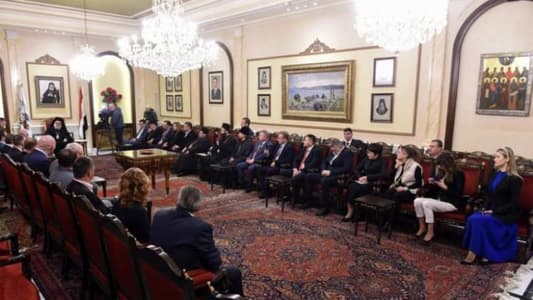 Greek Orthodox Patriarch of Antioch and All the East, John X, met on Friday at the Patriarchal headquarters in Damascus, with a delegation of members of the State Duma of the Russian Federation, headed by the Coordinator of the Russian Parliamentary Group on Communicating with the People's Assembly in Syria, Dimitri Sablin.

Accompanying the Russian delegation were a number of Syrian People's Assembly members and Russian Patriarch's Representative, Father Arsani, in the presence of a number of bishops.

The Patriarch welcomed the delegation and attendees, wishing everyone a blessed holiday season, and stressing on "the distinguished relationship that unites the Patriarchates of Antioch and Moscow," and praising "the cooperation between Syria and Russia for the sake of human good and peace."

He also asked Mr. Sablin to convey the warmest greetings to Russian President Vladimir Putin, Patriarch Kirill and the entire Russian people marking the glorious festive season.

In turn, Sablin thanked the Patriarch for welcoming the delegation, wishing him and all the sons of the Patriarchate of Antioch blessed seasons and glorious holidays. He also highlighted "the importance of the relationship between the two countries and the two patriarchates and the role that the Antiochian Patriarchate plays in consolidating Russian-Syrian relations."

The visit was also a chance to brief the Patriarch on the Committee's activities in Syria, asserting that the "Russian state continues to provide assistance at all levels in order to establish security and peace."