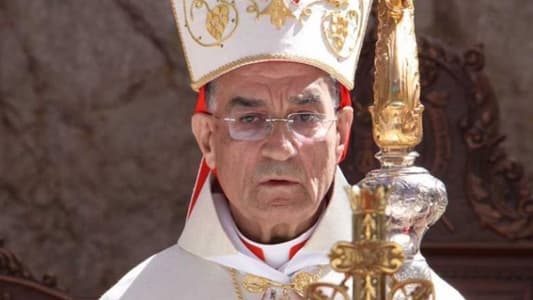 Maronite Patriarch Bechara Rahi presided over Christmas Mass service in Bkerke in the presence of PresidentMichel Aoun.

In his sermon, Rahi said that "the Lebanese suffer poverty, hunger and deprivation from the most basic issues of life," calling on state officials to stop the crime of torturing and oppressing them, while political action aims to secure the common good.

"Lebanon must be saved with new initiatives, including the adoption of the project of Lebanon's neutrality, so we support you in order for Lebanon to restore its balance and its position in the Arab world and among nations, and to lift the cover of legitimacy from anyone who harms the unity of the state and national partnership," the prelate told the President.

Rahi criticized those who obstruct the holding of cabinet sessions, saying: "There are those who want to make people get used to the absence of constitutional authorities and other state organizations in order to create another Lebanon that does not resemble itself. The country must be saved by adopting the project of Lebanon's neutrality."

"We call on the government not to succumb to political tyranny at the expense of the constitutional will," the Patriarch added.

He considered that national responsibility imposes a separation between political interactions and the work of the Council of Ministers and the work of the judiciary and public administrations, describing the existence of a government without a Council of Ministers as a strange phenomenon that permits exclusivity in administrative decisions.

Finally, Rahi supported the president's commitment to holding the parliamentary elections on their constitutional date, considering that these elections are a guarantee that the presidential elections will take place on time, and they are also an opportunity for change through the system.