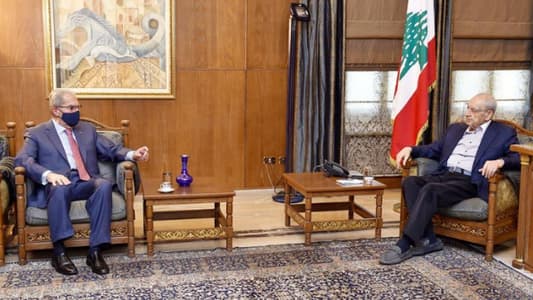 Parliament Speaker, Nabih Berri, on Tuesday welcomed at his Ain el-Tineh residence former minister, Wadih al-Khazen, with whom he discussed the general situation, and the latest local developments.

Speaker Berri also welcomed Lebanon's Ambassador to the Islamic Republic of Iran, Hassan Abbas.

On the other hand, Speaker Berri received a congratulatory cable for the New Year from Egyptian President, Abdel Fattah Al-Sisi.

"We hope the new year will one of goodness and prosperity, in which our ambitions and hopes for a bright future and a better tomorrow for our two brotherly peoples, and for all the peoples of the world, will be realized," Al-Sisi's cable read.

"I look forward, with all optimism and hope, that 2022 will witness the beginning of a new phase of development and progress through our commitment to partnership and joint work to achieve a better future for our peoples, our two brotherly countries, and our Arab and Islamic nations," the Egyptian President's letter added.