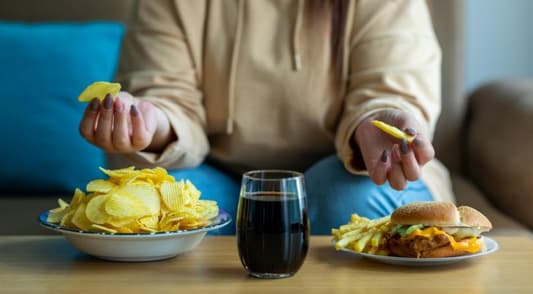 Madeline Holcombe wrote this article in CNN:

About 9 million children live in food-insecure households in the United States, according to the US Department of Agriculture. Now, a new study has shown food insecurity may also be associated with emotional eating and consumption of less nutritious foods in teens.

The study published Wednesday in the journal PLOS One followed the data of more than 1,500 adolescents from the Family Life, Activity, Sun, Health and Eating study collected by the National Cancer Institute.

The report found that teen diets were varied when it came to combinations of fruits, vegetables, sugar-sweetened beverages and foods lower in nutrients.

"Teens' dietary behaviors are complex, they include the foods they eat but can also include eating in response to emotions. Teens' diets are also related to their access to affordable healthy foods," said lead study author Patrece Joseph, a postdoctoral research associate at the Gillings School of Global Public Health at the University of North Carolina at Chapel Hill.

Experiencing food insecurity was associated with a poor diet and more reported emotional eating, according to the study.

"This is not surprising as food insecurity is associated with unhealthy diet and other unhealthy eating behaviors among adolescents, such as binge eating and using laxatives, and may be a strategy for coping with stress associated with food insecurity," the study said.

Nearly 34 million people in the United States live in food-insecure households, according to the US Department of Agriculture Economic Research Service.

Food insecurity is not having access or resources for enough food to meet basic needs, said Natalie Mokari, a dietitian based in Charlotte, North Carolina. Mokari was not involved in the study.

In the US, food insecurity is a crisis that has been made worse by the Covid-19 pandemic and rising food prices, she added.

"With food insecurity, we're looking for value in what you can buy," Mokari said. "Someone who experiences food insecurity is going to pick something that's more filling rather than thinking as much about the nutritional properties."

Insecurity now, problems in the future

The issue of food insecurity as a teen could have long-lasting impacts, the study noted. Eating habits as a teen often impact eating habits and chronic disease risks as an adult, the study said.

Growing up with the feeling of not having enough as a teen can impact an adult's relationship with food even if they eventually have more money to buy food, Mokari said.

That can manifest in a feeling of disconnect, in which someone who is no longer food insecure feels the need to always finish their plate, even if they are getting uncomfortably full, for example, she added.

It might take working with a therapist and/or a dietitian focused on intuitive eating to learn how to reregulate your body's habits around eating and to feel safe in having enough, Mokari said.

"For people who have experienced food insecurity, it is a very common experience to have negative feelings around food," she added.

A systemic issue

The problem isn't necessarily that teens with fewer resources are choosing to eat less nutritious food, but that it is hard for them to access healthy, affordable foods, Joseph said.

When it comes to emotional eating, the stress of food insecurity may be a strong factor, she added.

"Food insecurity is not an individual problem but a systemic one," Joseph said. "Therefore, it requires community as well as policy solutions to ensure that people have access to affordable and nutritious foods."

That could mean increasing access to affordable, healthy foods in spaces that are focused on teens, like teen centers, she added.

"There are many schools and community programs that have food pantries attached to them so that students and families can bring home fresh fruits and vegetables," Joseph added.

If individuals want to help, they can donate to such programs or advocate for policies that increase the availability and affordability of healthy foods, she said.

"It is also important to have programs specifically for teens because they may not be able to access or feel comfortable going to programs specifically for adults or kids," Joseph said.