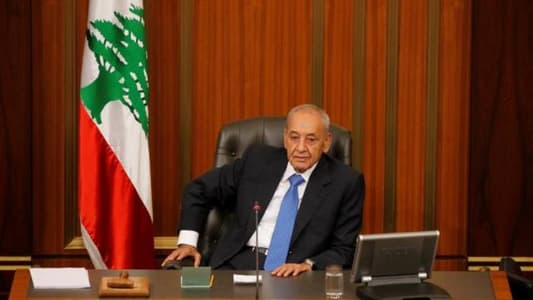 Speaker Nabih Berri received today at Ain el-Tineh the Amal Movement delegation returning from Tehran, where they represented the Speaker at the swearing-in ceremony of Iranian President Ibrahim Raisi.

The delegation included: MP Ayoub Hmayid, Caretaker Culture and Agriculture Minister Abbas Mortada, Presidency Council Member Khalil Hamdan, and Amal Political Bureau Member Talal Hatoum.

They briefed Speaker Berri on content of the official meetings they held in Tehran with a number of officials in the Iranian Islamic Republic, particularly with the Speaker of the Iranian Shura Council, Mohammad Baqer Qalibaf, and the Chairman of the Defense and National Security Committee, Vahid Jalalzadeh.

The delegation also presented the Speaker with the gift that was extended to him by the Secretariat of the Shrine of Razavi in ​​the holy city of Mashhad, which is the banner of Imam Ali al-Ridha.