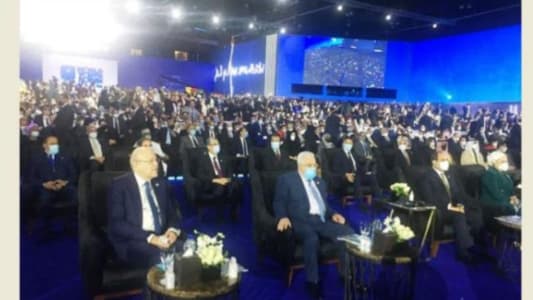 Prime Minister Najib Mikati on Monday said that the upcoming parliamentary elections set to take place next spring will constitute an opportunity for Lebanon's youth to have their say and define their options in line with their vision of engaging in the desired national rescue workshop.

Premier Mikati's fresh words came in his delivered speech at the 4th World Youth Forum organized by Egypt in Sharm El Sheikh, at the invitation of Egyptian President Abdel Fattah El-Sisi.

The event takes place in the presence of a number of presidents, politicians, diplomats, media figures and a panel of Arab and foreign youth.

In his delivered word, Premier Mikati thanked President El-Sisi for his great efforts in holding this forum, "which constitutes an important and essential gathering to draw a unified vision for the future of youth in the Arab countries and across the world."

Addressing the Lebanese youth, Mikati said: "I am proud of all the young men and women of Lebanon, and I see in their eyes the hope for a better tomorrow for our people and our country. I also call on them not to despair despite the painful reality, and not to consider that immigration is the solution, and to preserve their faith in Lebanon, which has faced, throughout its history, many hardships that were more severe than the ones we endure today; Yet we overcame and withstood them and surpassed all dangers, and set out again to build a Lebanon worthy of our youth."

The PM added: ''Beirut has been chosen this year to be the capital of Arab youth, and I take this opportunity to say that Beirut will open its doors to all young people in the Arab world to reassure you that you are in the heart of Beirut and that of Lebanon."

Mikati concluded by wishing this forum every success in translating the desired common goals that meet the aspirations of our Arab youth and push joint Arab action forward and fulfill the aspirations of our Arab youth and future generations.

It is to note that Premier Mikati and his wife reached at 11.00 am the headquarters of the World Youth Forum in Sharm El-Sheikh, where they were received by Egyptian President Abdel Fattah El-Sisi and Egypt's First Lady.

The official Lebanese delegation included Minister of Youth and Sports, George Kallas, and Lebanon's Ambassador to Egypt Ali Al-Halabi.