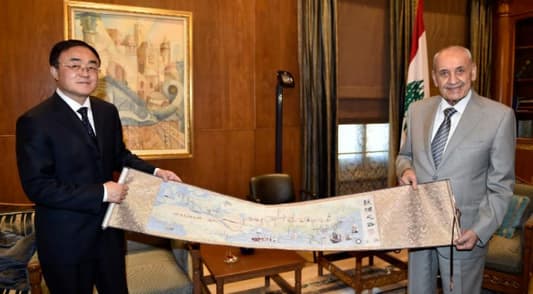 Parliament Speaker Nabih Berri welcomed on Tuesday at his Ain Al Tineh residence, President of the Institute of Party History and Literature of the Central Committee of the Chinese Communist Party Qu Qingshan who visited him with an accompanying delegation, in the presence of Chinese Ambassador to Lebanon Qian Minjian.

The meeting reportedly focused on the general conditions in Lebanon and the region. The delegation invited Speaker Berri to visit China.

During the meeting, Speaker Berri stressed "the importance of strengthening parliamentary relations between the two countries in various fields." He also praised "the People's Republic of China's support to Lebanon in all international forums, as well as its support for the rights of the Palestinian people."

Moreover, Speaker Berri valued China for "its role in achieving the Saudi-Iranian agreement, because of its positive repercussions in the region in terms of progress and stability."

Berri also called on the Chinese side to "invest in Lebanon in various sectors and to contribute to the process of the country's advancement and development."

The Chinese delegation extended to Speaker Berri a symbolic gift from the Chinese heritage, which is a map of the "Silk Road".