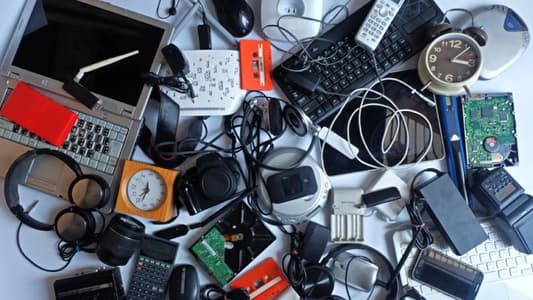 How one business in the Middle East is implementing e-waste strategies to address the challenge

Electronic waste or e-waste is a global challenge threatening the health of people and the planet. International organizations and climate advocates have been raising the red flag around this issue forcing businesses and governments to set e-waste policies, standards and recommendations in an effort to improve the situation.

According to the UN, in 2021 each person on the planet will produce on average 7.6 kg of e-waste, meaning that a massive 57.4 million tons will be generated worldwide. As declared by ERI (Electronic Recyclers International), it is expected that worldwide e-waste generation will be at 67 million tons by 2030, which is almost double 2014's waste.

In the Arab region, the Regional E-waste Monitor for the Arab States 2021 which is the first monitoring effort in the region in relation to e-waste statistics, legislation and e-waste management infrastructure, indicated that e-waste generation in the Arab region increased by 61 per cent from 1.8 Mt (4.9 kg/inh) in 2010 to 2.8 Mt (6.6 kg/inh) in 2019.

With the rise of global health issues and the aggravating challenges of climate change, and given the growth of e-waste generation, it has become urgent to find solutions to a growing problem that affects people's health and their future on the planet. In fact, the International Telecommunication Union (ITU) has clearly affirmed that e-waste is one of the largest and
most complex waste streams in the world. Today, it has become clear that addressing the environmental risks of e-waste is beyond pressing.

In particular, the Middle East and Africa region is facing deep challenges in e-waste management. In fact, the regional e-waste monitor for the Arab states 2021 has stated that "E-waste management in the Arab States region faces a myriad of challenges, prompted by a complete absence of e-waste-specific policies and legislation, which are key to the development of a proper system and an appropriate response." Many solutions can improve the situation if tackled properly, such as preventing e-waste generation, adopting adequate legislations, raising awareness, improving collection and treatment of e-waste, among others.

As many businesses are already addressing the challenge part of their commitment to the United Nations Sustainable Development Goals (SDGs), Resource Group, a regional group of companies with diversified businesses covering the Middle East and Africa, is taking serious steps to tackle the e-waste problem starting by raising awareness among its teams to collect and recycle its e-waste.
The Group has recently signed an agreement with Verdetech, a Lebanese recycling company and the only licensed recycling company by the Ministry of Environment and the Ministry of Interior Affairs in Lebanon, for the collection of all solid and e-waste generated by the Group. This initiative falls under Resource Group's CSR initiatives in line with its objective to support the SDGs, and specifically SDG #13 to combat climate change.

"The urgency to limit solid waste and particularly e-waste has been on the rise in the world. Therefore, it is important for us to adopt eco-friendly practices at our premises to limit our environmental footprint and specifically contribute to limiting the e-waste in Lebanon and the region", said Hisham Itani, Chairman and CEO at Resource Group.
He added, "Corporate sustainability is one of our main priorities as we aim to tackle environmental challenges and promote environmental responsibility among our teams and the communities. By partnering with Verdetech, we trust that all our electrical and electronic equipment will be recycled through innovative waste management techniques."

Stressing on the importance of creating awareness about waste management, Ramzi el Haddad, General Manager said, "Our aim is to support businesses in their efforts towards sustainability and more specifically waste management. In fact, solid and e-waste management is a serious issue that directly affects the environment and our ecosystem. Therefore, as companies play an important role in setting new standards and behaviors, we are putting all our efforts into partnering with businesses to encourage waste prevention and recycling behavior."

Resource Group had recently joined the UN Global Compact initiative joining thousands of other companies globally committed to taking responsible business action to create a more sustainable world. Through its waste management initiative, the Group reaffirms its commitment to environmental sustainability, and pursues its endeavors to create a positive impact through technology innovation.

About Resource Group

Resource Group is a regional group of companies with diversified businesses covering the Middle East and Africa. The Group was established after years of focus on R&D innovations and identification of value-added niche markets. Today, Resource Group operates across the sectors of security printing, digital security, Information and Communication Technology (ICT), port and vehicle inspections, software development, software outsourcing and software integration, startup incubation, metaverse advisory, and others.
Resource Group has earned the trust of governments and top-tier companies in over 50 countries across the Middle East and Africa.

About Verdetech

VerdeTech is the first full-service and the only licensed recycling company by the Ministry of Environment and the Ministry of Interior Affairs under the WEEE Directive (2002/96/EC).
It seeks to raise awareness on the urgency of acting to limit electrical and electronic waste, and offers solutions sharing a common vision to protect the environment and live a greener and more sustainable life by abiding by the industry's guidelines and norms.