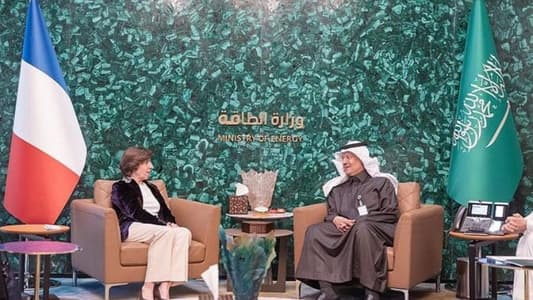 Saudi Arabia and France have agreed a deal to establish a framework for cooperation in the energy sector, particularly in technologies which tackle climate change, such as carbon capture and hydrogen production.

The Kingdom's Minister of Energy Prince Abdulaziz bin Salman signed a memorandum of understanding with Catherine Colonna, French minister of Europe and foreign affairs, to increase closer working in the fields of electricity, renewables, and energy efficiency.

The deal, which was signed in Riyadh, will also cover storage, smart grids, oil and gas and their derivatives, as well as refining, petrochemicals, and the distribution and marketing sector.

The agreement addresses areas of collaboration in digital transformation, localization of materials, products, and services related to the energy sectors, joint research, skill training, and cooperation between specialized companies.

The meeting is yet another example of the solid relationship between Saudi Arabia and France, with Colonna having met with the Kingdom's Crown Prince Mohammed bin Salman and discussed ways to enhance bilateral relations between the two countries.

Ahead of Colonna's visit to Riyadh, France's Minister of Economy, Finance, and Industrial and Digital Sovereignty Bruno Le Maire traveled to the Saudi capital.

He met with Saudi Arabia's Minister of Energy Prince Abdulaziz bin Salman to discuss cooperation in the peaceful uses of atomic energy.

They also discussed future opportunities in various energy fields, including areas of cooperation in renewable energy, clean hydrogen, and electrical interconnection.

In an interview with Arab News in December, the French Minister for Foreign Trade, Attractiveness and French Nationals Abroad Olivier Becht set out how trade between his country and Saudi Arabia is set to grow.

"French companies are committed to increasing and diversifying their investments in the Saudi economy, in line with the priorities of the Kingdom's Vision 2030, particularly in renewable energies, hydrogen, water, the environment, the digital economy, the smart city and, of course, tourism services and infrastructure," he said.

"Several partnerships between French startups and Saudi companies and investors have been established in the recent years…in particular the delegation of startups led by Generation 2030, during the last Future Investment Initiative in 2022 in Riyadh," Becht said.

The minister added that France is ready to use its expertise in many high-tech and digital fields - including smart cities, cybersecurity and artificial intelligence - to develop new economic partnerships with the Kingdom.