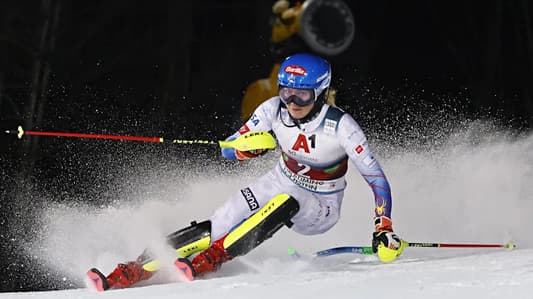 Slovakia's Petra Vlhova won the final women's slalom of the Alpine skiing season in Andorra on Saturday as Mikaela Shiffrin finished third to tie another record and collect the World Cup champion's crystal globe.

Vlhova had led after the first run down Soldeu's Avet slope and finished 0.43 of a second ahead of Croatia's Leona Popovic, on the podium for the first time in her career.

American Shiffrin, fourth after the opening leg and chasing a record-stretching 88th win, moved on to the podium after Sweden's Anna Swenn Larsson straddled a gate.

It was the 137th World Cup podium appearance of her career, equalling the women's record of compatriot Lindsey Vonn.

Shiffrin had already clinched the slalom title for the seventh time, along with the giant slalom and overall crystal globe.

It was Shiffrin's second worst result of the season in the discipline, with the 28-year-old winning six of 11 slaloms and finishing second three times.

She ended the season with 945 points in the slalom standings, 290 more than second-placed Wendy Holdener of Switzerland.

"It's a challenging slope and it's kind of interesting to finish the season with that because for me it gives a lot of insight into the things we can work on through the summertime and the preparation for next season," Shiffrin said.

"It kind of leaves some motivation."

Shiffrin said this globe felt different to those won earlier in her career.

"I won them almost without understanding," she said. "I kind of had less pressure when I was skiing and feeling young. Just trying to earn my spot to be racing on the World Cup still. Now there's always a little bit more weight.

"Every single race I feel the weight of having to be one of the best in the world, no matter what the day is -- which is actually quite a privilege but some days it's quite heavy.

"Today it didn't feel heavy. It just felt like a really good opportunity."

Shiffrin has one more race to come, the final giant slalom on Sunday.

An emotional Vlhova said it was a relief to end with a second win in the discipline.

"I wanted to come here to show my skiing in the last races and to have a good feeling for next season. So I'm super-happy to finish the season like this," she said.