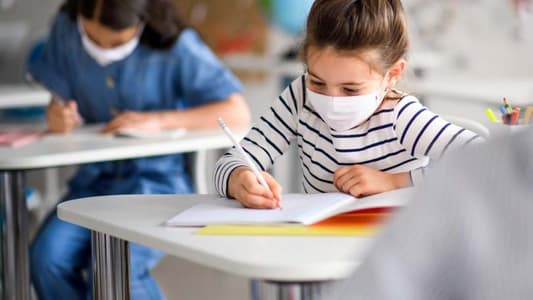 Education Minister and Acting Information Minister Abbas Halabi and Health Minister Firas Abiad on Wednesday held a joint press conference at the Information Ministry, in the presence of World Health Organization Representative in Lebanon, Iman Al-Shanqiti, Representative of UNICEF, Information Ministry Director General, Dr. Hassan Falha, Education Ministry Director General Fadi Yarak, Head of the National Audiovisual Council of Lebanon, Abdel Hadi Mahfouz, Information Ministry's Studies' Department Head Khodr Majed, Representative of the Lebanese Red Cross Kassem Shaalan, and other concerned officials.

The conference dealt with the health protocol and the importance of preventive measures to limit the spread of the coronavirus, and the return to educational institutions and resumption of in-person learning.

In his delivered word, Minister Halabi urged all citizens, without exception, to take the vaccine and to abide by the health protocol in wearing masks, maintaining social distancing, frequent washing hands, and avoiding contact with any infected person.

"We count on the cooperation of the media, to continuously reiterate the call to follow and abide by these measures and procedures, in order to preserve our health and that of our children, our society, our economy and our production, and above all to preserve our educational and university institutions and keep them sound and capable of carrying out their educational tasks," Minister Halabi said.

"We are proceeding with opening schools and other educational institutions and universities on the tenth of this month in agreement with the Ministry of Public Health, the World Health Organization and all partners from international organizations, within the health-defined criteria. The main goal is to benefit from global experiences by keeping schools open while adhering to procedures to limit any consequences in the event of infection," the Minister maintained.

Minister Halabi recapped the most prominent measures taken by the Ministry to secure a safe return to schools, saying they have established in cooperation with the Red Cross an operations room to run coronavirus-related affairs.