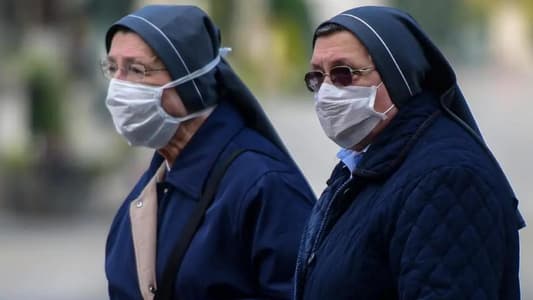 A nun who rarely leaves the walls of her monastery has shared her tips for those practising social distancing amid the coronavirus pandemic.


According to Sister Mary Catharine Perry, who spoke with reporter Cassidy Grom for an op-ed published on NJ.com, she and the 17 other nuns she lives with in Summit, New Jersey, are what are formally referred to as "cloistered sisters," meaning they never leave their walled off monastery except for occasional doctors' visits or to shop for a certain item.


"We don't go to parties or weddings or out to eat with friends," she says. "I often go months without leaving our eight-acre home."


According to Perry, who has "lived a life of separation," this is what individuals around the world who have found themselves confined to their homes in an effort to curb the spread of coronavirus should know.


1. Establish a routine


Perry is far from the first person to urge people to establish a routine, as numerous experts have found that routines - whether it is following your old one or beginning a new one - can help people bring some stability to periods of uncertainty.


While she acknowledges that it may take some time to get used to, for Perry, whose routine consists of planned time for prayer, worship, work, eating and fun, routines allow for a "peaceful rhythm".


She also advises people to avoid wearing pyjamas all day.


2. Reach out and love others


According to Perry, times of uncertainty such as these mean it is "easy to get caught up in making sure you and your loved ones are safe and your needs are met".


However, she encourages people to reach out to those outside of their immediate circle, such as their elderly neighbours, to see if they need help.


Perry also suggests that the quarantine is a good opportunity to strengthen bonds of family and friendship with those you live with through quality time spent together.


"Don't hide from roommates under the guise of needing to work; get to know them and learn to enjoy their company," Perry advises.


3. Relax and self-reflect


Perry's final piece of advice is to take this time to allow ourselves a "more quiet, simple life".


According to Perry, she and her fellow nuns take a 90-minute break each day where they don't speak or move about, a period they refer to as "profound silence".


She thinks such an activity would be useful for everyone currently practising social distancing, as it allows you an opportunity to be alone - which Perry believes most people are not comfortable doing.


"People say they want peace and quiet. Then when it is thrown in their lap, they panic. They don't know how to be alone. They are afraid to confront their 'shadow side,' the hard truths about themselves that they don't like," Perry explains.


However, according to Perry, life "isn't meant to be rushed" and this time can be used to "get to know yourself".


"Stop. Be still," she says.