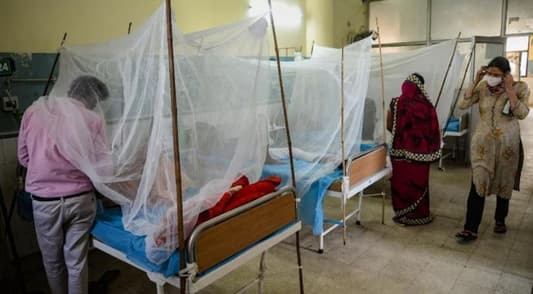 Nearly 1,000 people have died of dengue in Bangladesh in recent weeks, in what authorities say is the country's most severe outbreak of the disease yet.

Extraordinarily wet monsoons have made it easier for mosquitoes that carry the dengue virus to breed in dirty and stagnant water.

Officials have struggled to contain the spread of the disease and hospitals have been critically overwhelmed.

In severe cases, dengue causes internal bleeding which can lead to death.

Its symptoms include headaches, nausea, joint and muscle pain.

Dengue is endemic in tropical countries and outbreaks often occur in urban areas with poor sanitation that allow virus-carrying mosquitoes to multiply.

It used to be a seasonal disease in Bangladesh, but due to hotter and wetter monsoons brought about by climate change, it has been occurring more frequently since the first recorded outbreak in 2000.

Public health officials say the current wave of infections caught the country off guard, as it is caused by a stronger strain of the virus.

Doctors have noted that the condition of current dengue patients deteriorates much faster compared to the last few years.

Up to 20 people have died of dengue every day over the past two months and the death toll this year has exceeded the total in the last 22 years, officials say.

Bangladesh has launched public awareness campaigns to prevent mosquito breeding grounds from forming.

But more needs to be done, according to Dr Mushtaq Hussain, a public health expert.

"Those concerned think that it may be a temporary disease, and that it will go away after a few days, so no effective or long-term measures are being taken," he told the BBC Bengali service.

Dengue infections have been reported in all of Bangladesh's 64 districts, according to the World Health Organization.

Hundreds of dengue patients have swarmed hospitals in the capital of Dhaka seeking treatment but most of the facilities are at overcapacity.

Hospitals are also running short of intravenous fluids, which is crucial to treatment as dengue patients often suffer from dehydration.