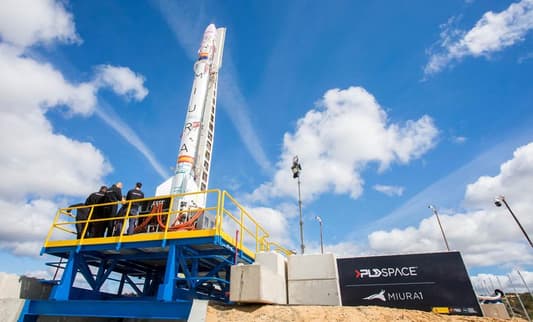 Reuters published this article:

Two Spanish engineers hope to put their country at the forefront of the space transport industry with the launch of what could be the first private reusable rocket from Western Europe later this year.

Raul Torres and Raul Verdu, who work for Spanish launch company PLD Space, have named their suborbital microlauncher "Miura 1" after a renowned breed of bull in Spain's bullfighting tradition.

The microlauncher is as tall as a three-storey building, has a 100-kg (220-lb) cargo capacity and can also be used to carry zero-gravity experiments.

PLD Space aims to launch the rocket in Huelva in southern Spain, paving the way for commercial launches further down the road, but no date has been set.

Unveiling the rocket at the launch site at a military base on Saturday, PLD Space's executive president, Ezequiel Sanchez, said it demonstrated Spain's "technological leadership in Europe".

London-based Orbex is also working to deliver small satellites into low Earth orbit from Scotland, with no launch date scheduled yet.

Prime Minister Pedro Sanchez, who was present on Saturday, hailed the microlauncher's development as an important step towards fulfilling the country's space ambitions.

"This is something we should share among the whole of Spanish society which will put Spain at the vanguard of this emerging but potent industry," he said.

Spain launched its own state space agency on March 7 amid a push by European countries to keep pace with global rivals.

The Spanish Space Agency, based in the southern city of Seville, will have a budget of 700 million euros ($745 million) in its first year and a staff of 75.

In November, European nations agreed to boost spending on space by 17% to keep on the heels of the United States and China.

Spain's international position in the aerospace sector has been bolstered not only by increased public spending but by the European Space Agency's recruitment of the first two Spanish astronauts in 30 years, Pablo Alvarez and Sara Garcia.