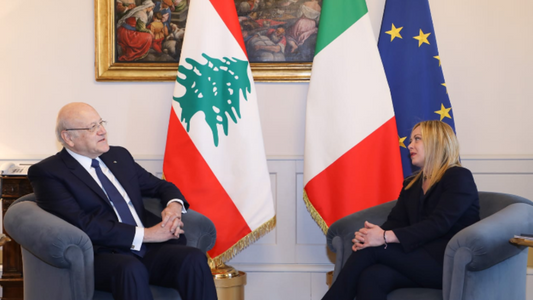 Prime Minister Najib Mikati hoped that Lebanon would soon elect a new president, "as a prelude to start dealing with all other outstanding issues."

In an interview with the Italian newspaper La Repubblica at the end of his visit to the Vatican and Rome, he said about the increasing number of boats loaded with illegal immigrants from Lebanon to Europe: "The issue of illegal immigration is a problem for Lebanon and Italy together, and I asked Prime Minister George Meloni to hold a joint dialogue, through which all participating countries can present ideas and be present to solve the problem once and for all."

"There is a European meeting in Brussels on June 15 to discuss the issue of refugees. I hope it will be a moment of confrontation over the issue of illegal immigration," he added.

In response to a question about the presence of Syrians, Iraqis and Lebanese on illegal immigration boats that depart from Lebanon, he said: "The problem is not with the Lebanese who want to leave because they can request a visa. The main problem is with the non-Lebanese residing in Lebanon without documents and relying on human traffickers."


Bilateral cooperation

Regarding other files he discussed with the Italian Prime Minister, Mikati praised "the historical and excellent bilateral relations at all levels between Lebanon and Italy", reiterating Lebanon's appreciation for the continuous Italian support, especially Italy's vital role in supporting the UNIFIL mission and the Lebanese army.

Gas file

Regarding the file of gas extraction in the Lebanese territorial waters, Mikati indicated that "the signing of the maritime border demarcation agreement is a source of peace for southern Lebanon, and without that, it would not have been possible for Qatar Petroleum, Total and Eni to explore, as they are conducting preliminary research, which is not an easy matter."

"There is still no plan to export gas or official commitments, and it is too early to talk about this issue, but it is clear that it will be exported to Europe, to our friends, and to the countries closest to us," he went on.

Iran and Saudi Arabia

Regarding the Saudi-Iranian agreement and its repercussions on Lebanon, he said: "This agreement is an important step, but I believe that the priority now is the issue of peace in Yemen, and after that comes talk about other files, including Lebanon. But with regard to Lebanon, the dialogue must be internally Lebanese without external influences".

Beirut port explosion

In response to a question about the investigation into the Beirut port explosion, Mikati explained, "The investigation is moving forward, and we are awaiting its results to find out the truth, and there are laws that stipulate the existence of special courts for presidents and members

He pointed out that the government cannot interfere in these laws, and the judicial investigator would like to treat everyone the same, but the laws do not allow that.