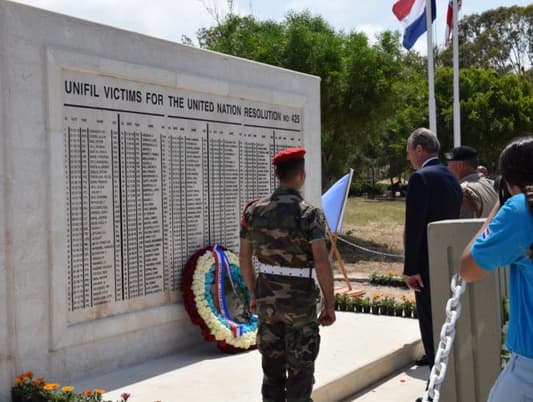 On May 4th, a ceremony for the Netherlands Remembrance Day was held in Tyre at the UNIFIL memorial, where Netherlands ambassador Han-Maurits Schaapveld, the Representative Commander in Chief, Brigadier-General Jean Jabbour, and Deputy Force Commander of UNIFIL, Bigadier-General Francesco Olla, laid a wreath of flowers during the ceremony. The ceremony remembered, honored and commemorated the 9 Dutch UNIFIL soldiers who fell during the peacekeeping mission between 1979 and 1985, and was attended by forty Dutch UNIFIL veterans who served in Lebanon. During their memorable trip to Lebanon, the 40 Dutch veterans returned to the place where they were stationed during the peacekeeping mission.

 
Remembrance Day commemorates all civilians and members of the armed forces of the Kingdom of the Netherlands who have died in wars or peacekeeping missions since the outbreak of World War II.

 
During the ceremony, Ambassador Han-Maurits Schaapveld said: 'we commemorate the men and women who gave their lives in our mutual battle for peace. Here in Tyre, we think specifically about the Dutch UNIFIL soldiers, and about what they fought for: a stable and peaceful Lebanon'.