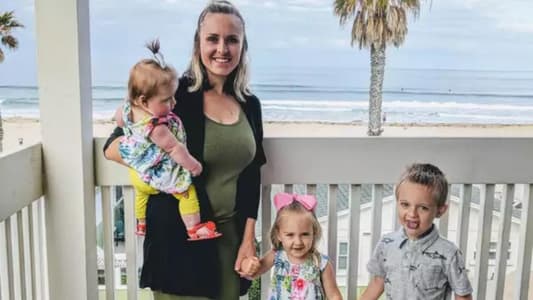 A mother with a rare condition which means she produces excess breast milk has donated nearly 1,000 pints of it to help other families.


While some mothers struggle to produce any breast milk at all, Tabitha Frost has hyperlactation syndrome, which means she produces three times more milk than average.


In order to manage the oversupply, the mother-of-three has to pump every three hours.


Frost estimates that she produces approximately 90oz of breast milk every day, 25oz of which is consumed by her eight-month-old daughter Cleo.


The excess is donated to local families to feed those who are either allergic to formula or were born prematurely, meaning their mothers might not be producing milk yet.


The Carlsbad, California-based blogger believes she has donated roughly 15,000oz of breast milk in total since Cleo was born.


"I recently donated milk to a pair of twins who were born prematurely," Frost says.


"They have a condition that requires them to be fed through feeding tubes."


She recalls the moment a nurse first told her she might have hyperlactaction: "[The nurse] had never seen so much milk before," she said.


Now, Frost must be prepared to pump at all times, regardless of where she is in the world or what she is doing.
"My routine doesn't stop whether I'm on vacation, I'm not feeling well, or if I'm lacking in sleep. I'm always doing it," she said, describing it as akin to having a full-time job.


"I'll pump wherever I am. I've pumped at concerts, I've pumped at baseball games. I pump in the car, I pump at museums.


"You name it, I've pumped there. I don't let life get in the way."


Once pumped into sterilised containers, Frost's breast milk is frozen so that it remains preserved before it's donated via a company called Prolacta.


The 29-year-old mother confessed that occasionally her routine disrupts the time she spends with her husband, Nick, 35, who works as a property developer.


"We'll even be out on a date night and I have to take 15 minutes to step away to continue pumping," she said.


"He knows that no matter where I am, every three hours, it's time to pump."


Frost added that she sometimes accidentally wakes her husband up in the middle of the night as a result of her pumping, but revealed that he is incredibly supportive of her donations and that he never complains.


"It's definitely a lot of work, but it's very rewarding," she continues.
"I don't see myself stopping anytime soon."